Acupuncture steps from 1 to 8
1. Find out about us and be interested in using acupuncture
2. Make an appointment online or give us a call at 502-589-6860
3. Show up and say "Hello". Bring paperwork with you or fill out paperwork when you get here a little early.
4. Have a discussion about what you want to work on in private
5. Head to the group treatment room (perhaps use the restroom first).
6. Pick a recliner.
7. Take off your shoes and socks – make sure we can get to your elbows and knees.
8. We'll take it from there.
There's other little bits and pieces, but that's the general outline. And yes, you did read RECLINER up there. They're often just more comfortable and they're easier to get in and out of. Did we mention they're pretty great? There are points all over you that can help out low backs and necks and plenty of other places we can't get to because you are in a recliner.
Now as for the group acupuncture room…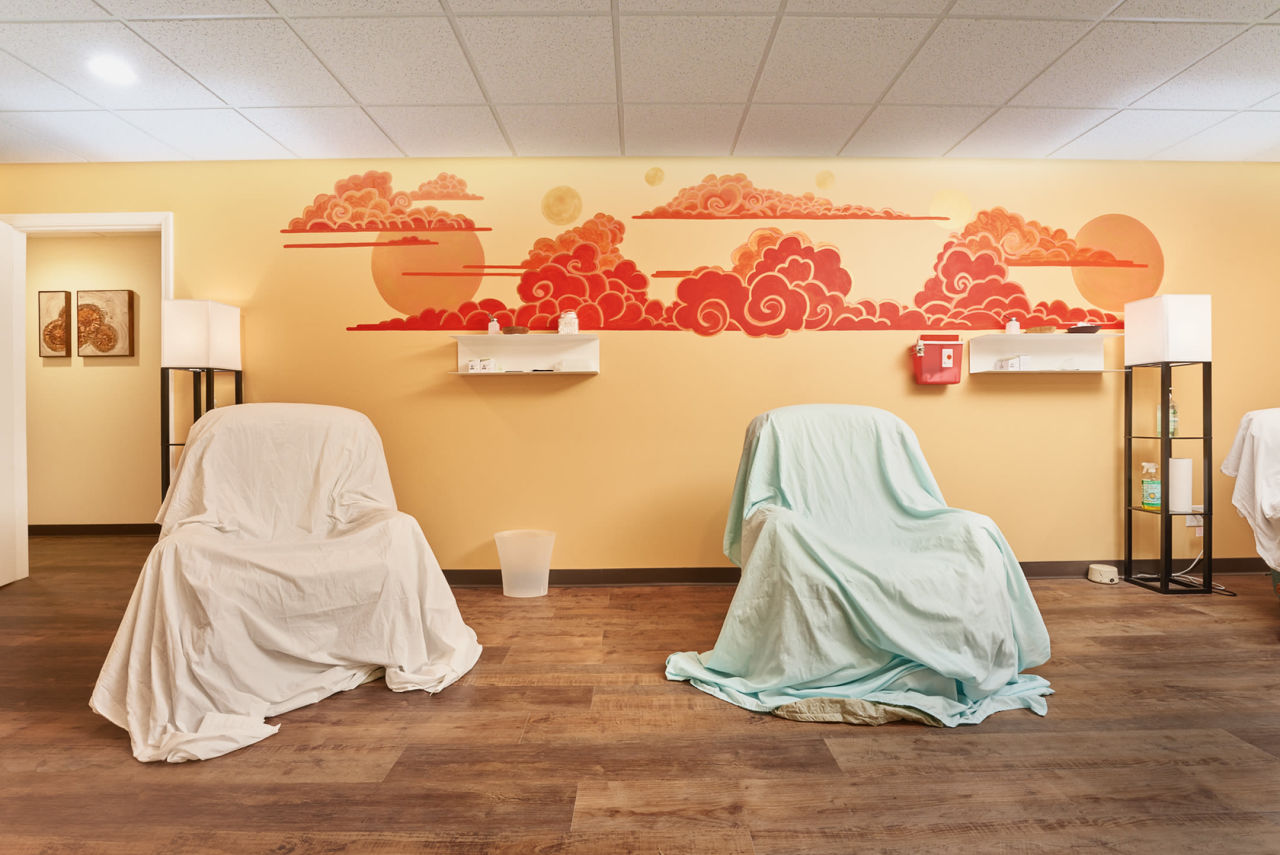 We use the group room for a number of reasons.  Everyone getting acupuncture together really helps to reinforce the community experience that sustains this place. It makes it easier for friends and family to come in at the same time. And frankly it makes it much, much easier to take better care of multiple people when they're all in the same room than if we had to open door after door to check on people tucked away by themselves. That's three reasons for the big room.
Trust us, it really does not take a private room experience to benefit from acupuncture, though your privacy is always respected. We do have (or hope to have at some point) massage tables to do some things with a patient face down, but this space is usually reserved for cupping therapy.  The only option that guarantees a private room is Private Acupuncture.
If you prefer a private room because you feel that you would be uncomfortable in a room with other strangers, we recommend trying out community acupuncture before you rule it out. Here we focus on acupuncture, and ideally lots of acupuncture, because acupuncture, even in simple concoctions, is often very effective.
And we hope it gets you involved in the treatment here, because it is two fold: We count on you to work together while you're getting needled, but then work together on your own to help us spread the word about what we're trying to do here. Cause it's weird and fun and very often helpful at the same time.
Contact Us
Contact form description text